High-Performance Modules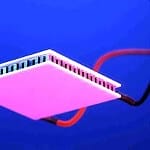 High Performance modules have one of two features that set them apart from our standard devices. Some achieve a higher temperature difference (DTmax) through the use of premium quality thermoelectric material. Others have more heat pumping capacity (Qmax) for any given size through the use of shorter thermoelectric elements or higher element packing densities. The higher DTmax is useful for reducing power consumption and achieving ultimate performance when you need a high temperature from the cold plate to the heat sink. Higher Qmax modules are useful for reducing the module count and improving the C.O.P. (efficiency) in systems that have lower temperature differences. These modules are rated for use up to 80°C.
Please review all technical information & FAQ's posted on our web site before purchasing thermoelectric modules.
Selections shaded in blue are standard stock items. These items are stocked in prototyping quantities and can generally be shipped within 24-48 hours. Selections shaded in gray may or may not be in stock. Please inquire for stock status. If you are interested in a module that is not standard stock or otherwise in stock then a 100 piece minimum order applies.