Multi-Stage Modules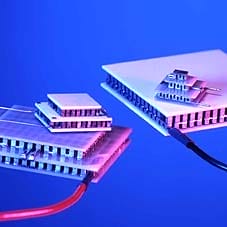 Multi-Stage modules are modules that are "stacked", or cascaded to achieve higher temperature differences than can be had with single-stage modules. Our proprietary "potting" for moisture protection and ruggedizing is available as an option, although the reduction in performance is more notable with Multi-Stage modules and therefore is rarely used on modules with more than two stages. These modules are rated for use up to 80°C.
Please review all technical information & FAQ's posted on our web site before purchasing thermoelectric modules.
Selections shaded in blue are standard stock items. These items are stocked in prototyping quantities and can generally be shipped within 24-48 hours. Selections shaded in gray may or may not be in stock. Please inquire for stock status. If you are interested in a module that is not standard stock or otherwise in stock then a 100 piece minimum order applies.